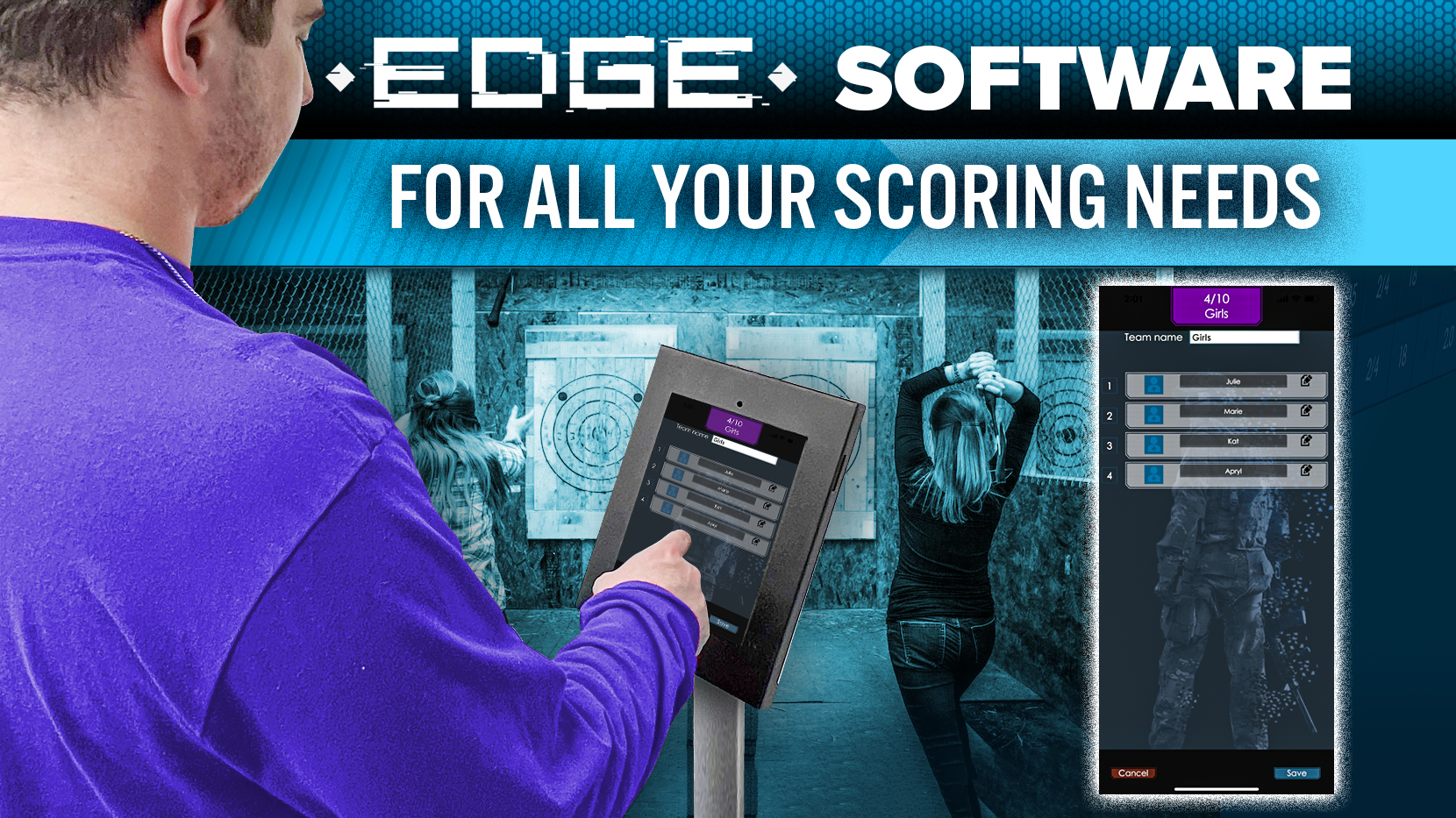 LASER TAG TARGETS, MANUAL SCORING WITH SOUND BOARDS AND MORE!
"Stepping" confidently into 2023, the Battle Company team is on pace to make this year our finest yet! You may already be aware of our reputation for creating groundbreaking tech in the entertainment industry. It's been our vision to deliver the most innovative products and software in this space, for entrepreneurs and customers all over the world. We can't wait to show you our latest developments and get you acquainted with the newest additions to our product line-up!
It's been over a decade since we formed our team and dedicated ourselves to delivering unparalleled live action gaming experiences. From sales, to engineering, and production, each member of our team has played a crucial role in getting us to where we are today. Founded in America, we have operators in every state throughout the country as well as every branch of the U.S. military, and at businesses in over 40 countries across the world. We've expanded our operations and welcomed in fresh talent, ensuring that our customers will continue to receive the best products, software, and service available in the industry. By growing our existing departments, not to mention establishing new ones, the Battle Company crew is excited for what's next!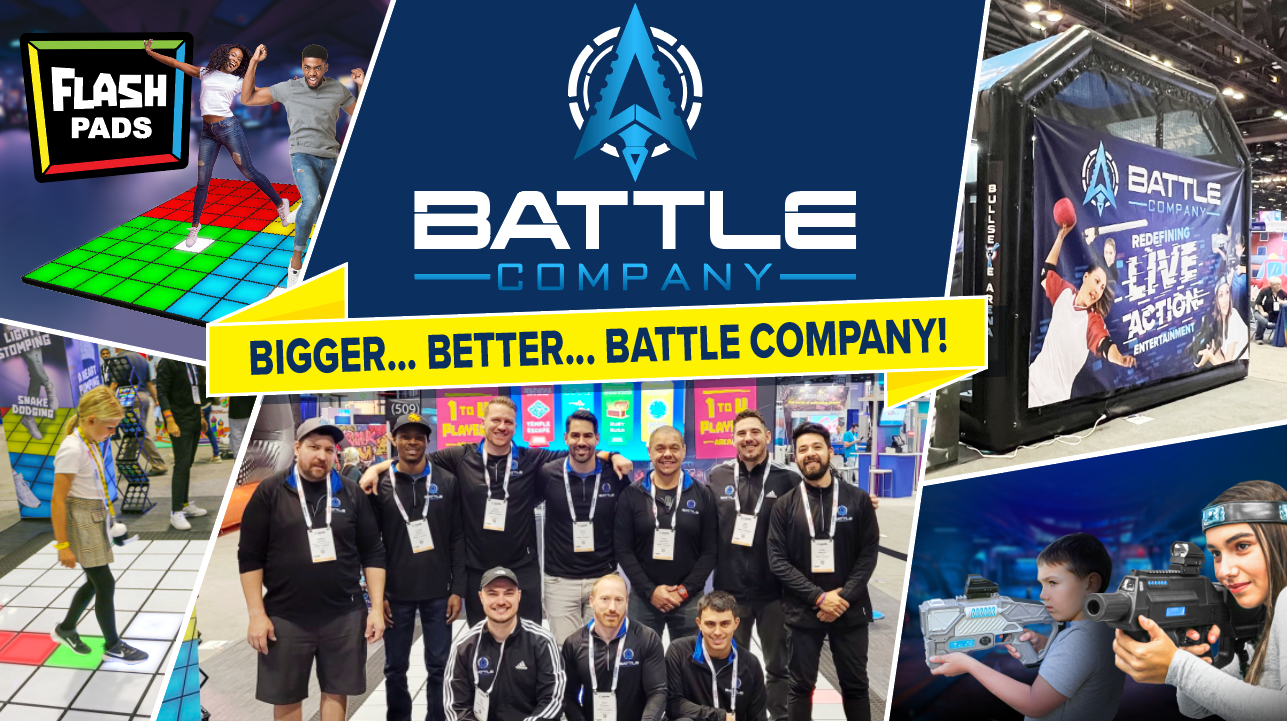 FLASH PADS: A NEW
ATTRACTION

THAT FITS IN AN ARCADE!

There is a common objective we all share that can be summed up in one word – FUN! Specializing in live action, modern, and competitive gaming, we've launched our newest creation, the Flash Pads. With its unique design and inviting 12' x 12' light-up floor the Flash Pads come with games for players of all ages and skill levels, offering a totally different kind of entertainment experience!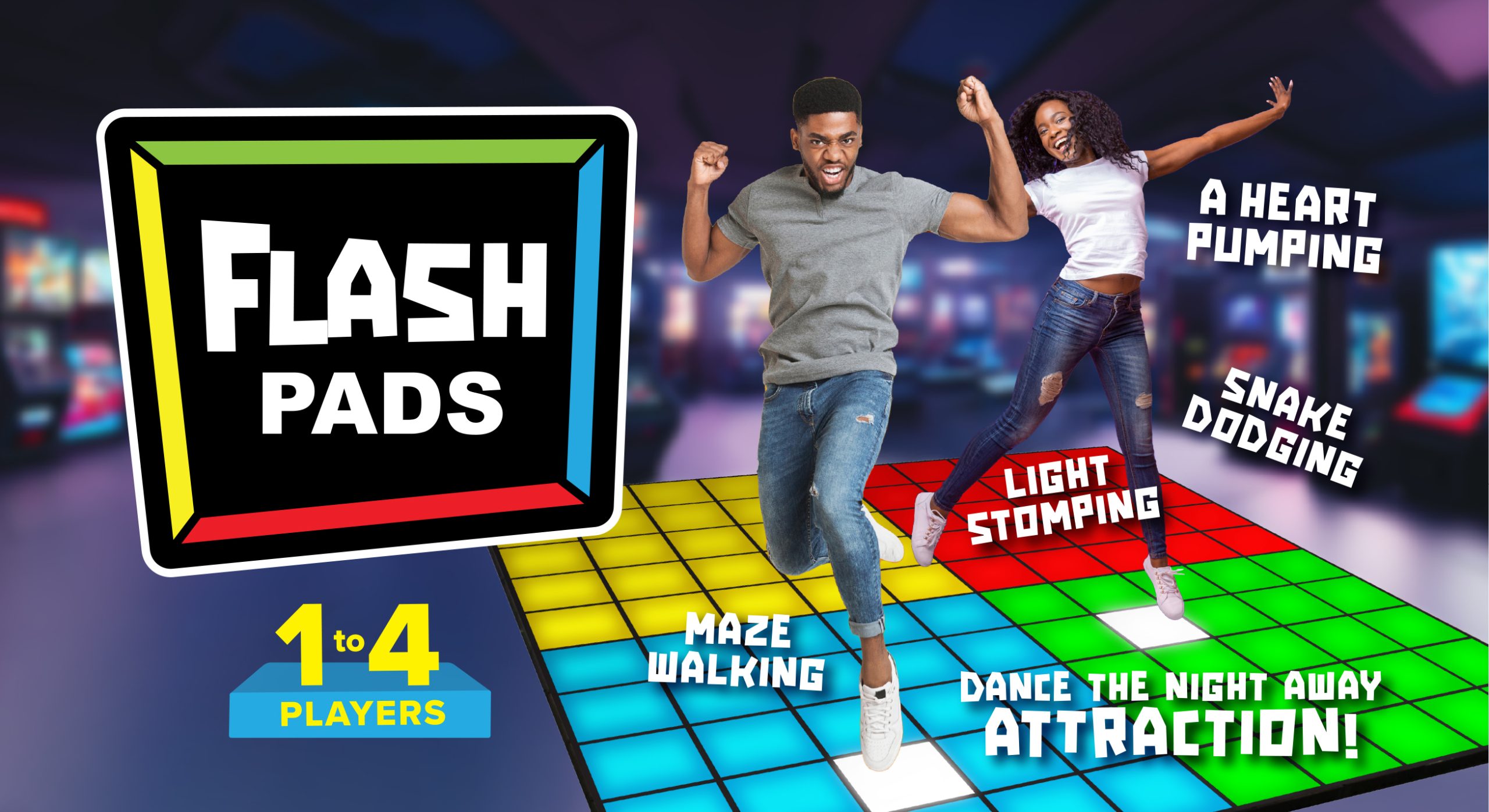 As a business owner, it's important to know that Flash Pads can rank among your top earners while occupying only a fraction of the space and budget required for your other attractions. Frame out an exclusive area where you install your Flash Pads and add them to your packages for birthday parties, team outings, or date nights. Or, sell blocks of time right from your register to small groups to maximize your income. Limited on space? The Flash Pads can be easily incorporated into your arcade space with minimal staffing requirements. With both single and multiplayer options, there is a variety of games designed for groups both large and small!
From East Coast to West Coast, the Flash Pads are being installed across the country. Don't miss out. Be the first in your area to debut the hottest new attraction of the year! Our sales department is ready to talk to you about the Flash Pads. Take the first step by making a simple phone call, we're here to help! Learn more at our – Flash Pad website.
EDGE 6.0 LASER TAG SOFTWARE THAT GOES BEYOND
At Battle Company, we aim not only to create cutting-edge products but also to constantly improve them. We've proven that over the past decade through all the new features and tools we've added to our laser tag system, and we're doing it again. We've been asked what more could possibly be added to EDGE and its Game Engine, but we thrive on the challenge of pushing the boundaries of what is possible in software. EDGE 6 raises the bar yet again and we are excited to see how you will incorporate these new features into your business!
MANUAL SCORING FOR MORE CONTROL OVER YOUR ATTRACTIONS
Like many successful family entertainment businesses, you're likely running multiple attractions. Now, with the release of EDGE 6, you can extend EDGE's renowned scoring features to your other attractions with Manual Scoring. This new functionality allows you to design games with the Game Engine options you already know and love. Set parameters for teams, players, scoring buttons, and design like you would for any game. Use EDGE Terminal to host localized games right from your tablets. Scores can be managed by an admin, or if you want to be hands-off, players can keep score for their own groups by themselves. Manual Scoring gives you the ability to enhance a range of attractions with scoring features, giving them that touch of technological finesse they are missing. Add functionality to axe-throwing, bubble soccer, or create your own games with traditional sporting or backyard equipment – no matter what attractions you think of, EDGE has got you covered!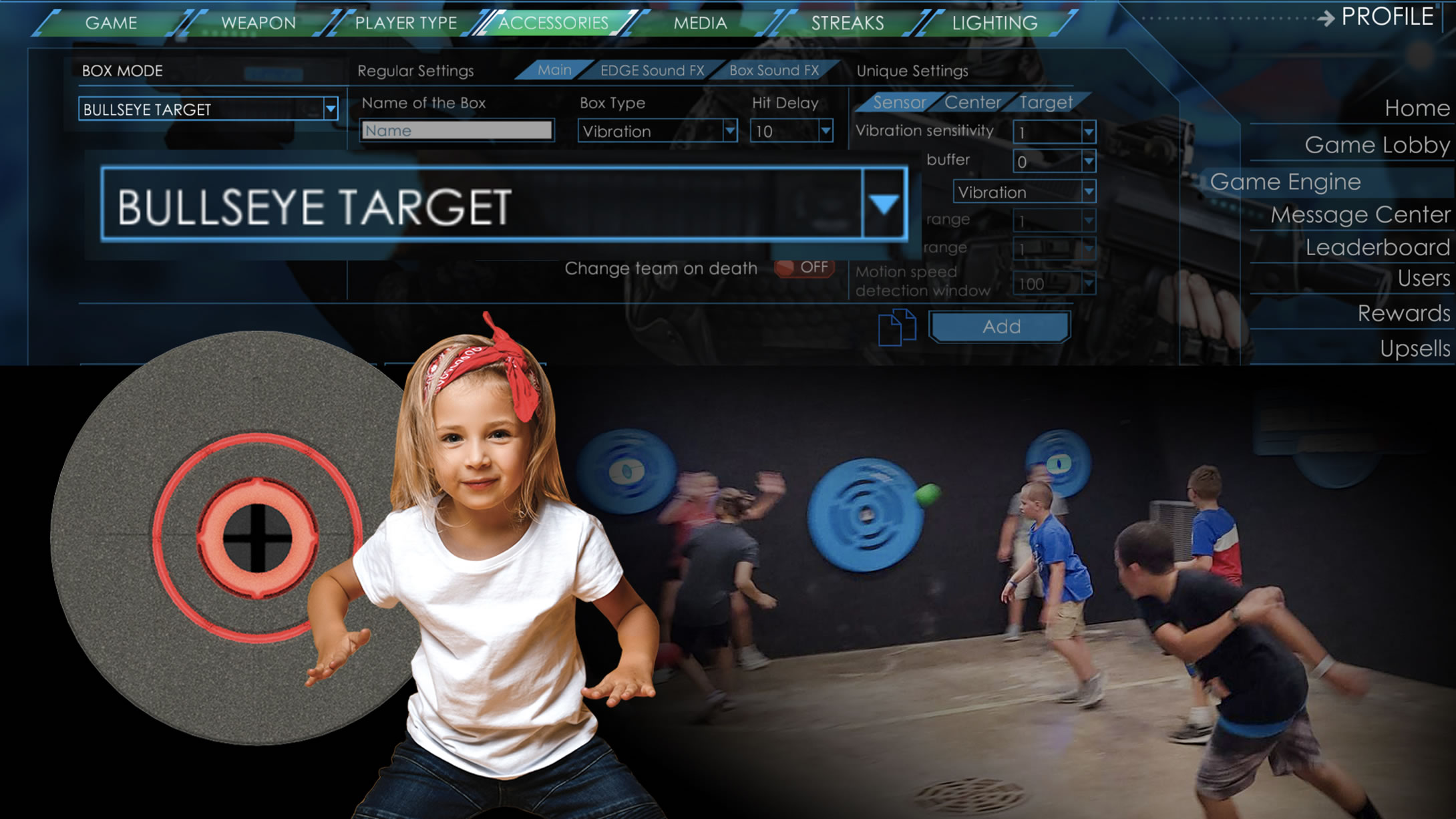 BULLSEYE TARGETS FOR LASER TAG, SPORTS BALLS, ARCHERY TAG, AND MORE!
Are you a current EDGE user, looking for ways to add some variety to your arena or battlefield? Look no further than our all-new Bullseye Targets! If you attended IAAPA 2022 and were at our booth, chances are you saw our Bullseye Arena (our all-in-one, inflatable arena for Bullseye Target games). That's great for people looking for a mobile or self-contained attraction, but the Bullseye Targets are also great for installing right in your own arena. These innovative devices have been a huge hit with visitors. The target's smart technology can be adjusted to detect impacts from projectiles and balls of different sizes. From foam dart games to dodgeball and archery tag, make your existing attractions more interesting and competitive with live scoring. Furthermore, these targets are fully compatible with your laser tag system which will allow you to add even more exciting and flexible ways to score in your laser tag games!
ENHANCED SCORING AND SOUND WITH EDGE TERMINAL
Get ready to take your game hosting to the next level with the new EDGE Terminal Soundboard now available in the EDGE 6 Game Engine! Configure these convenient buttons to play sounds as well as the ability to add or subtract points in a quick and discrete way. Add a whole new level of excitement by uploading your own audio files that add to your theming. Boost the intensity with the sounds of an airstrike in the distance, sound an air horn, or simply use it to remind players of the rules, right over your arena speakers! And, it's not only limited to laser tag – use the EDGE Terminal Soundboard to add a layer of entertainment and immersion to any of your attractions that both your players and staff will love! Don't be afraid to experiment with your sound effects, everyone knows audio integration is one of the things that make an entertainment experience memorable!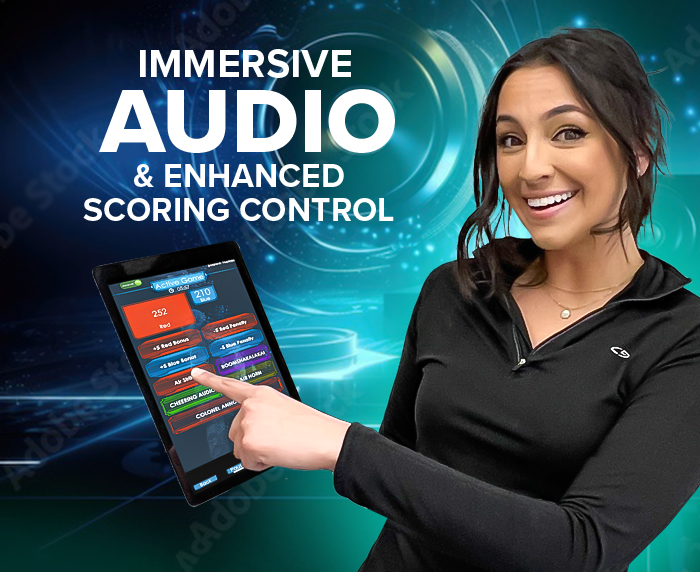 A quick note on EDGE 6 licensing, now you can renew at any time regardless of your expiration date. Simply purchase your next subscription and it will seamlessly extend the time till expiration of your license, ensuring that you're always ready to play! We're thrilled to share these exciting new EDGE 6 features with you and you can be sure our team is already hard at work on the next update. Check out the customer portal for a complete list of changes, download EDGE 6, and get the new firmware updates for your equipment.
As always, we appreciate your continued commitment as a Battle Company customer and look forward to another year of pushing the boundaries of live action gaming with you. Follow us on all of our social media platforms to stay up-to-date on the latest releases, news, and fun clips we'll be dripping out over the course of this year!