EDGE 3.0 has Arrived!
Here at Battle Company we've been preparing for one of our most ambitious system upgrades to date. There has been 8 months of development since our last software release and we are really excited for this one. EDGE 3.0 smashes today's most popular FPS (First Person Shooter) video game concepts with laser combat producing a complete live-action gaming package. What does this mean for your business? It means your customers will get to experience the most advanced laser tag game in EXISTENCE! The innovations we've made are as big as the claim; let us show you how EDGE 3.0 takes live-action gaming to a whole new level.
Advanced Weapon Creation Tool for Laser Tag
Out of the gate we gave our Weapon Creation Tool a major overhaul. You now have a ridiculous amount of customization options under the weapons menu. Want to create a weapon that does ice damage, slowing down your enemy's ability to fight back? You can! How about adding an attachment that allows players to cast shields onto their teammates? It's now possible! Sticky grenade launcher? Check! How about a weapon that heals your team members while at the same time poisons your enemies? The weapons tool in EDGE 3.0 gives you the power to make these unique armaments part of your arsenal!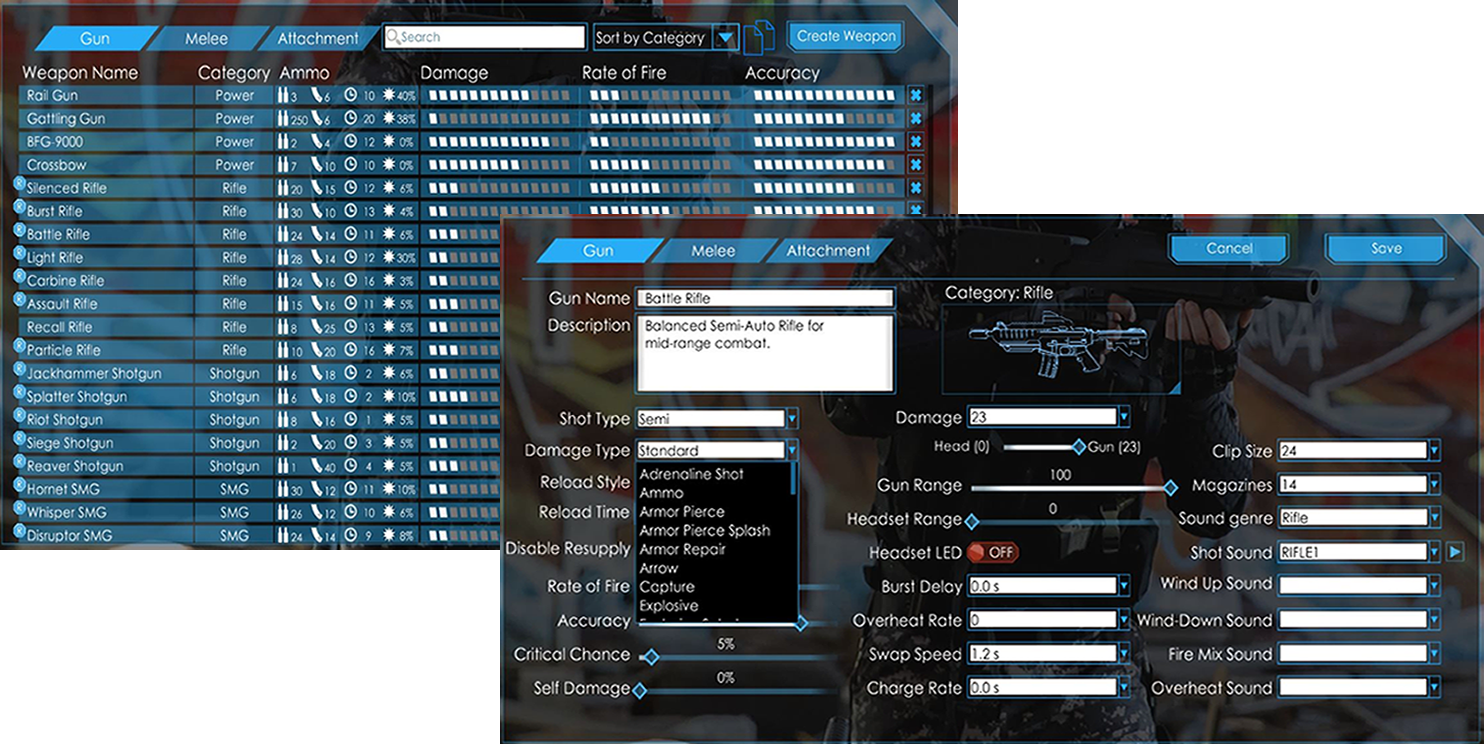 Laser Tag Attachments and Abilities
Two significant weapon enhancements made their way into EDGE 3.0. The first is attachments. Attachments are like special abilities you can bind to the left, right, and mode keys on your guns. Players simply press the button to deploy the ability. Some abilities can be broadcast over a distance while others work in close proximity to other players. Like always, EDGE gives you options. Giving health or ammunition has been around for years but what about new abilities like – Adrenaline. Adrenaline boosts friendly players' rate-of-fire making them more deadly for a short duration. This encourages teamwork…a teamwork that is just not possible on other systems. New attachments like Pepper Spray or Taser will stun enemies. These are perfect for tactical training simulation games and extremely useful for police and military training exercises.
Laser Tag and Melee Weapons
The second enhancement to the weapons tool is the ability to create melee weapons. You can now create swords, knives, axes, hammers, and even handcuffs that players can safely use in game! When creating a new melee weapon you can choose the direction of attack, damage, rate-of-fire, range, and a sound from our extensive selection of sound effects. Once created the melee weapons can be bound to the mode button in the games of your choosing. To keep things simple for our operators, we have preloaded over 90 primary weapons, 15 attachments, and 9 melee weapons that you can modify and customize to fit your business. We can't wait to hear about how you use these tools to enhance the gameplay experience for your customers.
Default Laser Tag Ranking Presets Added
Have you been interested in taking advantage of Ranking Settings but didn't know where to start? No worries…we've loaded out the entire section with default unlocks and rewards. Like always these settings are fully customizable by you – the business owner – so you can tweak them exactly to your needs. The defaults give you a jumping off point to launch this powerful tool into your business. Give your players the ability to level up and unlock fun weapons and rewards, it's sure to keep them coming back for more!
Arcade Mode Opens Up New Streams of Revenue
Have you ever wished there was a good way to send players into the game in waves or maximize throughput by starting and ending players individually? This is what our new arcade mode is all about. You can now add players into a live game by simply sending them past a U-Box broadcasting a Start Game command. The new player will enter the roster and can battle it out with existing players in the game. When a player's game is over (e.g. out of lives, time expires, or they have reach the end of your experience) they will see their score on the gun as well as our new leaderboard. The equipment can then be passed to the next player in line and you can continue this cycle perpetually. Oh, and the good news is this feature works with CallSign. Players simply login on terminal and are queued to play. When a gun becomes free, their CallSign is automatically assigned to their gun by EDGE. Simply let your customers gear up and join the battle!
Laser Tag Guns with Kill Streaks? Boooom!
Now this one is special. The CEO of Battle Company has wanted to create this next feature since his first webinar and has dreamed about it since the very beginnings of the company. We are proud to announce the first and only, fully loaded, kill streak system in live action gaming! We have created over 15 unique killstreaks that you can add to any game. Want to give away the enemy's position? Call in a UAV! Want to revive your fallen teammates? Use the Medivac! Rain terror from the sky with a chopper or devastate the entire enemy team with a Nuclear Strike. Kill streaks can be turned on or off and players can even activate kill streaks they've earned right from their phones with CallSign!









Scoreboard Addition: Medals
Every game now ends with a medals screen that highlights individual player achievements. Medals provide opportunities for greater social interaction between players. It's great to know who had the highest score in a game but wouldn't it be better if you could also highlight other types of player contributions and achievements? Now you can. For example, the most accurate shooter gets the Sharp Shooter medal. The Survivalist medal goes to the player who died the least. The player who scores the first kill gets the First Blood medal. There are even some humorous medals like Trigger Happy (the person who unloads the most rounds in a game) and the Grave Lover (most deaths). In addition to seeing medals on the scoreboard, players can achieve personal medals for double and triple kill, or the Ninja Medal which requires a player to get 3 melee kills in a single game. Every medal is tracked in CallSign so players can see their achievements and have a goal for the next time they play at your business.
Utility Box: Bomb Defusal and Order Activation
We gave the Utility Box some love as well with this update. Bomb Defusal now has configurable options in EDGE. Check out Order Activation, a new feature that enables a U-Box when an action is taken on a different U-Box. The new programming allows you to create some interesting games where players work their way across the battlefield by capturing control points. To use this feature, you'll need to setup special rules for your U-Boxes, check out the new default game "TEAM-Assault" to see an example.

Other Notable Changes:
Game Stats screen allows you to see the history of previous games.

Players can be made a "member," which will show on their CallSign profile for verification.

Reset rank and stat settings for individual CallSigns under the Users screen.

Add Guest button allows people using EDGE offline the ability to create guest usernames for their equipment (for business owners who choose not to use CallSign). NO ACTIVE INTERNET CONNECTION IS REQUIRED!

N

ew sorting options are available in many of the menus for quickly finding the information you want.

L

ighting tab allows you to set defaults like the reticle and color on your scopes.

T

arget box can now shoot back.
Best Laser Tag System on the Market
The release of EDGE 3.0 crowns Battle Company as the top innovator in live action gaming with the most advanced laser tag software in the world. No other system on the planet has the rich feature sets you will find in our platform. We challenge you to find a system that can do more…oh and if you can we will humbly pass the crown. Until then, know that when you have Battle Company gear and software you have the best system on the market. Don't be persuaded by manufacturers that say you don't need all these great features. That is just plain silly. The truth is we all want our technology to do more. It's why we have smartphones and why an app exists for almost every imaginable purpose. At Battle Company, we'll do our part to push the bounds of what is possible in laser tag to keep you ahead of your competition. An authentic live action gaming experience is what your customers are looking for and as your manufacturing partner we'll do all we can to help you create it!
Click Here to head over to the Customer Portal and get the latest version!